Our Compass
Statement of Purpose
To be a progressive energy and solutions partner enriching lives for a sustainable future.
Among the largest natural gas resource owners in the country, PETRONAS Canada is well-positioned to provide global markets with clean and responsibly-developed Canadian energy while supporting local jobs, working with Indigenous communities and protecting the environment. We continue to be a leader in natural gas development and a progressive energy and solutions partner for a sustainable future.
Our Shared values
Values are the common thread that binds us and fosters mutual understanding and trust. They help us navigate our differences and work towards a common goal. The shared values we ascribe to are unique to the PETRONAS family of companies. They convey to our partners and stakeholders that we can be counted upon to deliver value in a responsible and sustainable manner.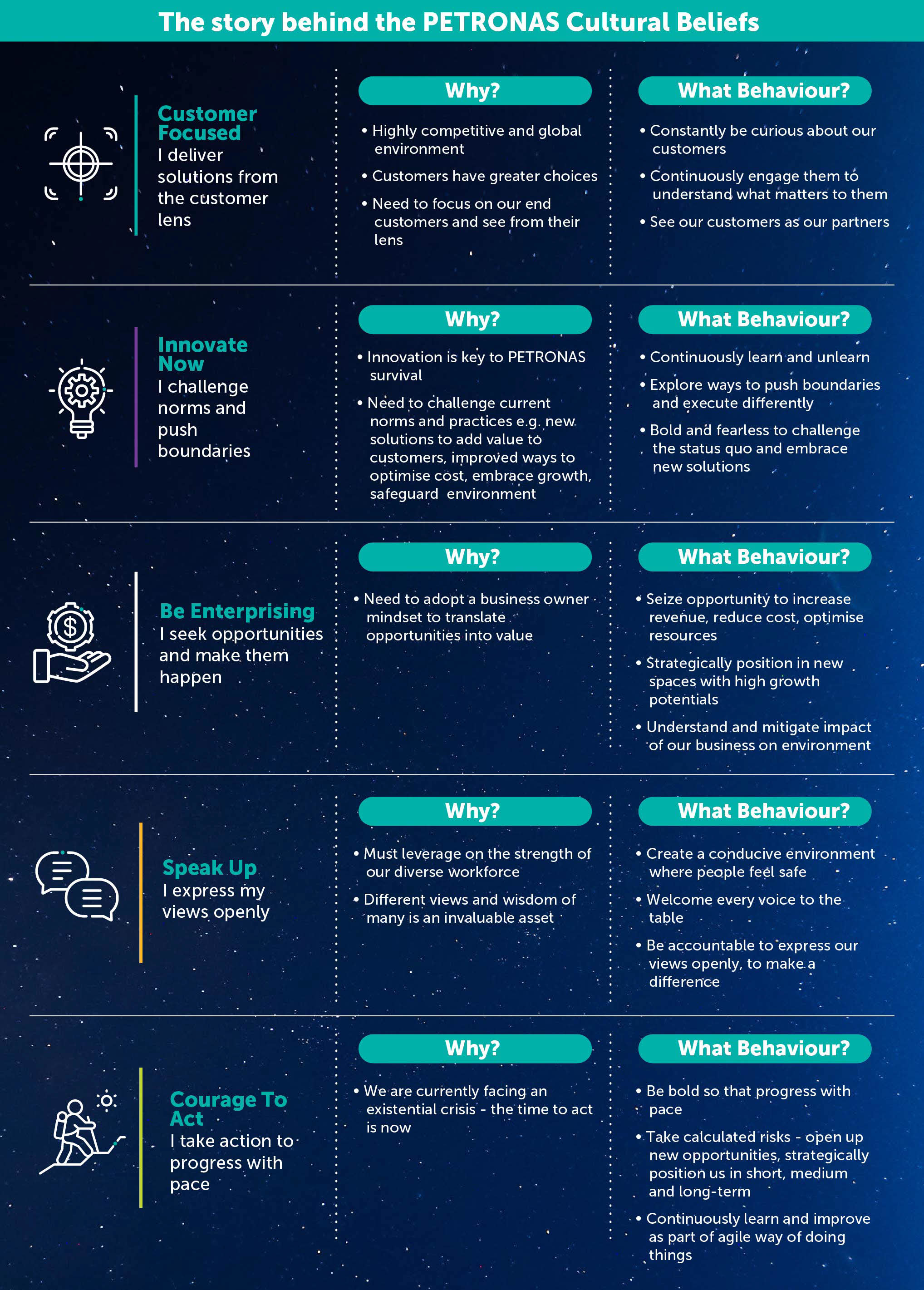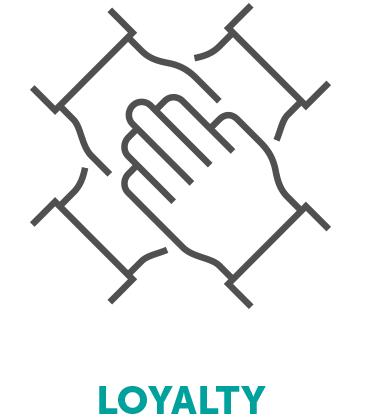 Loyalty – Loyal to corporation
Loyalty denotes dedication and a willingness to give your best. In challenging times we need to persevere in order to turn the tide and achieve greatness. Loyalty also entails a commitment to shepherd and safeguard the organization well into the future, ensuring it will prosper for generations to come.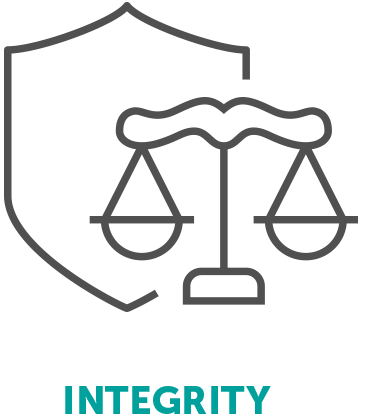 Integrity – Honest and upright
Integrity should never be compromised in the pursuit of business goals. We need to conduct all our actions transparently to garner trust from our stakeholders. A cornerstone of integrity is in diligently performing our duties and delivering on our promises. Creating an environment in which people feel free to pursue the organization's goals without fear or favour demonstrates our commitment to integrity.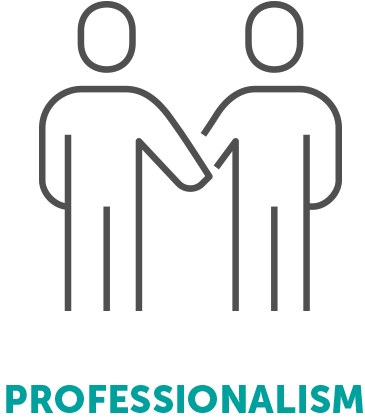 Professionalism – Strive for excellence
Professionalism requires us to strive for and take pride in delivering excellence and in taking ownership for continuous improvement. We must be willing and ready to embrace change and seize opportunities to elevate the organization's performance to the next level.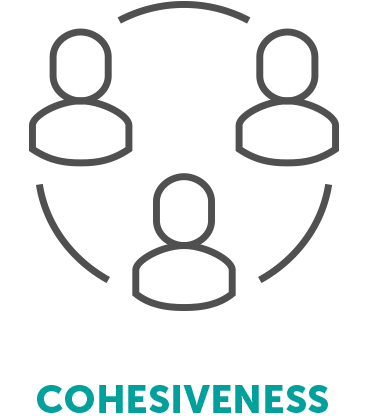 Cohesiveness – United, trust and respect for each other
We will deliver superior value when we are united towards achieving a common goal. Teamwork and collaboration will flourish when we leverage each other's strengths. Diversity in views and approaches is encouraged and respected and will support our culture. The organization truly thrives when we are bonded by the spirit of fellowship on our journey together.
Operations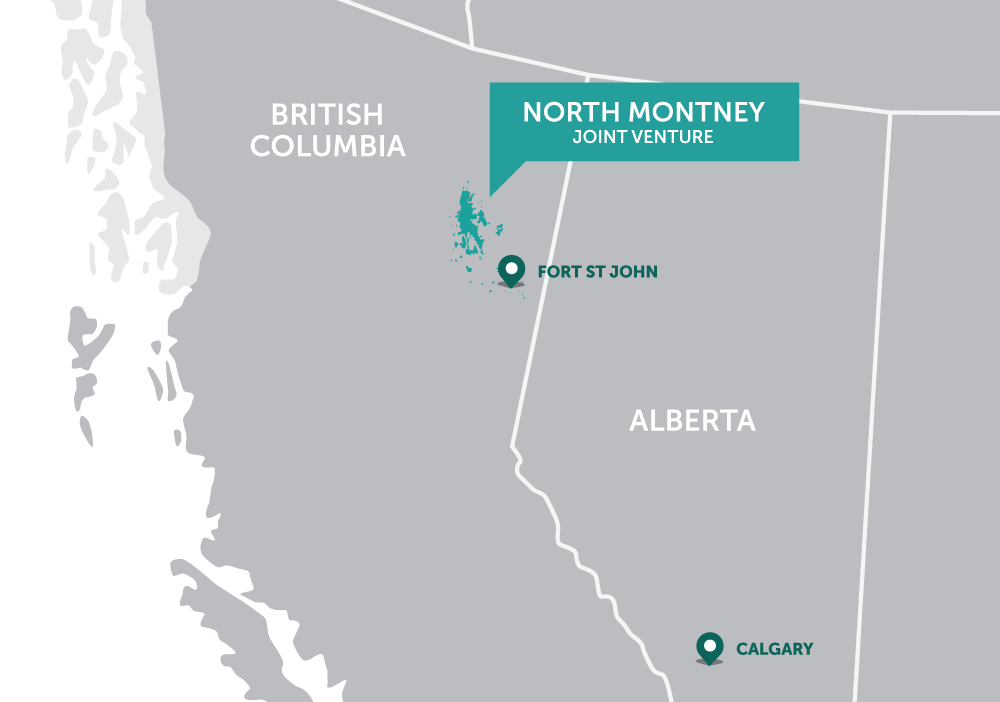 We are a company that pursues excellence, values innovation and is ever-diligent about the safety of our people. Everyone who works on our sites is responsible for both their own safety, and the safety of those around them. And everyone who works for our company is expected to uphold the respect we have for the environment.
Our current operations are all within the North Montney basin in northeast British Columbia. With a dominant land position in that resource-rich area, we are one of the largest natural gas resource owners in Canada. Together with our joint venture partners, we own more than 800,000 gross acres of mineral rights with 53 trillion cubic feet of reserves and contingent resources.
As the operator of a large joint venture in the North Montney, we are focused on developing the resource safely and responsibly.
The North Montney Joint Venture (NMJV) is between PETRONAS Canada, Brunei National Petroleum Company Sendirian Berhad (PetroleumBRUNEI), Indian Oil Corporation Ltd. (IndianOil) and China Petroleum & Chemical Corporation (Sinopec Corp). To date the NMJV has drilled 750 wells with an estimated 4,800 wells to be drilled over the next 45 years.
Current technology allows each pad to access approximately 16 wells and as our industry continues to innovate the number of wells being accessed from a single pad continues to climb, further reducing the surface footprint.
LNG
The company's latest LNG acquisition is a 25% interest in LNG Canada, which is located near Kitimat, British Columbia.

Construction has started on the project, which will include the design, construction and operation of a gas liquefaction plant and facilities for the storage and export of LNG, including marine facilities. The plant will initially consist of two LNG processing units, referred to as trains, with an option to expand the project in the future to four trains. The plant is expected to be completed in 2023. Once it's operational, we will be supplying the plant with 500 million cubic feet of gas a day.



Joint venture partnership and ownership interest

PETRONAS - 25%
Shell Canada Energy - 40%
Mitsubishi Corporation - 15%

PetroChina - 15%
Korea Gas Corporation - 5%
PETRONAS is one of the largest LNG operators in the world.
We believe natural gas will play a vital role in the planet's transition to a low carbon economy and that Canada can and should take a leadership position in reducing emissions globally.
Cleaner-burning natural gas derived from LNG can help to lower global greenhouse gas emissions when used to displace higher-emitting coal-fired electricity generation in China, India and Southeast Asia.
By 2040, about 1,500 megatonnes of carbon dioxide equivalent (MtCO2e) emissions could be eliminated every year if new power plants in China, India and Southeast Asia are fuelled by natural gas instead of coal.
That doesn't mean we stop working hard to lower the carbon footprint from producing natural gas.
LNG Canada created this video as part of the celebrations held following the positive final investment decision on October 1, 2018. 3:00 minutes
PETRONAS is the first company in the world to create a floating LNG facility, which was completed in 2016. 4:20 minutes
History

Our company has transformed from a junior exploration company in 2001 to being one of the largest natural gas resource owners in Canada. We stand proudly under the PETRONAS global umbrella as PETRONAS Canada.

Progress Energy created; operates under the PRQ ticker symbol.
2001

Amasses strong contiguous land position in northeast British Columbia; assets acquired from Calpine Corporation, Cequel Energy, BG and Suncor Energy.
2002-2010

Establishes a 50/50 agreement with PETRONAS to form the North Montney Joint Venture as well as an LNG Export Joint Venture later known as Pacific NorthWest LNG (PNW LNG).
2011

Progress purchased outright by PETRONAS.
2012

Reaches appraisal goal of 15 trillion cubic feet of natural gas reserves - enough to supply two billion cubic feet per day to PNW LNG for 25 years. PNW LNG makes a final investment decision conditional to:
Approval of the Project Development Agreement by the Legislative Assembly of British Columbia (subsequently granted in July 2015)
A positive regulatory decision on the company's environmental assessment by the government of Canada (subsequent decision in Sept. 2016 has 190 conditions)
2015

PETRONAS announces that PNW LNG will not proceed as previously planned following a careful and total review of the project amid changes in market conditions.
2017

Secures significant transportation commitments to obtain egress from northeast British Columbia:
700 Mcf of capacity on Nova Gas Transmission Ltd.'s North Montney Mainline Extension, getting the company into the largest gas market and transportation systems in North America, starting in 2019
475 Mcf per day of firm transportation delivery service at Empress for approximately 25 years starting in 2020, providing access to Eastern Canada, and the Midwest and Northeast U.S. markets
Determines total reserves and contingent resources to be more than 60 trillion cubic feet in the North Montney.
Acquires 25% interest in LNG Canada, located near Kitimat, British Columbia. The plant, initially consisting of two trains, is expected to be operational in 2023.
Progress Energy becomes PETRONAS Energy Canada Ltd. on November 22.
2018
Governance
We take pride in the fact that Canada has a world-class regulatory framework in place for the extraction and transportation of all our country's resources, and are committed to meeting or exceeding all applicable regulations across our operations.
Internally, we have a Code of Business Conduct & Ethics, which all staff commit to and must adhere to. We also have a whistleblower policy - an important mechanism to ensure we uphold the highest standards of integrity within our company.
Ethics Help Line
If you have a concern about the conduct of our company, or about the conduct of any of our staff, we want to know, so we can address and resolve those concerns as quickly as possible. You can be assured that all concerns raised through our Ethics Help Line are taken seriously.
Please contact us:
By Email:
By letter:
PETRONAS Canada
1600, 215 Second St. SW
Calgary, Alberta, Canada T2P 1M4
Attention: General Counsel
Through an external party:
Payments to governments
We report taxes, royalties and other fees paid to governments in line with the Government of Canada's Extractive Sector Transparency Measures Act (ESTMA) – an act that contributes to global efforts against corruption.
Supplier & Contractor Management
Thank you for your interest in becoming a supplier or contractor (vendor) of goods and/or services for PETRONAS Canada. At the core of our vendor engagement strategy is an assessment of how a new vendor will:
Share our commitment to safe operations.
Deliver cost-effective and innovative solutions with excellent service.
Provide the greatest degree of economic benefit and employment as possible to those within the communities where we operate, which is factored into vendor selection and competitive tender evaluation criteria.

Provide economic and employment opportunities to the local area First Nations within whose traditional territories we operate.
Engage with locally owned and operated businesses that employ local area residents.
As such, we encourage new vendors to not only provide details about their product or service offering, but also illustrate how the new vendor will advance our objectives including how local economic benefit and employment will be measured over time.
Procure to Pay System - GEP Smart and Enverus Support, Walkthrough and FAQ
In May 2023, PETRONAS Canada switched its P2P software over to GEP Smart and Enverus, allowing us to advance our processes and support cross-functional integrations. To support our valued Suppliers with the transition please find attached quick reference guides &, video walk throughs (focused on the key areas our suppliers are required to interact with GEP and Enverus), the PowerPoint deck utilized for our training sessions held through April and a FAQ document helping address the most common problems our suppliers have encountered.
Quick Reference Guides
Training Deck / Frequently Asked Questions
Video Walkthroughs
How to become a vendor
Email our Supply Chain Management group at VendorInquiries@petronascanada.com.
Regretfully due to the volume of requests, we cannot accept telephone and personal inquiries and may not respond to all emails.
Following the periodic comparing of internal needs assessments against the capabilities of potential new vendors, new vendors may be invited to join the PETRONAS Canada approved vendor list and directed to complete a two-stage vendor onboarding process. Only when a vendor's capabilities match our business needs will they be contacted.
Information for approved vendors
PETRONAS Canada requires that all agreements for the provision of goods and/or services be in writing and documented in a contract. In addition, we require all vendors to be familiar with and conduct themselves in a manner that meets or exceeds our applicable policies and procedures:
Policies
Standards, Procedures and Guidelines
Drugs and Alcohol Policy
The Vendor's Drug & Alcohol Policy is required to meet or exceed the most recent version of Canadian Model for Providing a Safe Workplace - a best practice guide from the Construction Owners Association of Alberta and Energy Safety Canada.
---
Note: all vendors must monitor this list for periodic updates or amendments to policies and procedures.
---
PETRONAS Canada uses ISNetworld (ISN) to evaluate, prequalify, and monitor all vendors working at PETRONAS Canada work locations. Prospective and current vendors are required to:
Sign up for an ISN account at www.isnetworld.com
Customerservice@isnetworld.com | 1-800-976-1303
Manage their ISN account to ensure they meet PETRONAS Canada requirements, including:

Providing proof of a Certificate of Recognition (CoR) within ISN.
Carrying the appropriate insurance including Workers Compensation Board (WCB) coverage in the Province of BC. Vendors exempt from having to carry WCB in BC due to interprovincial agreements or other reasons are required to apply for an exemption.
Submitting Quarterly/Annual Questionnaire Updates within the specified timeline.

Failure to submit the necessary updates (COR, Insurance, WCB, Quarterly/Annual Questionnaire Updates) will negatively impact scores and could result in a grade change for PECL connected contractors from "Acceptable" to "Not Acceptable". "Not Acceptable" status could result in a suspension of work activities for such contractor and disqualification from future work scope considerations.